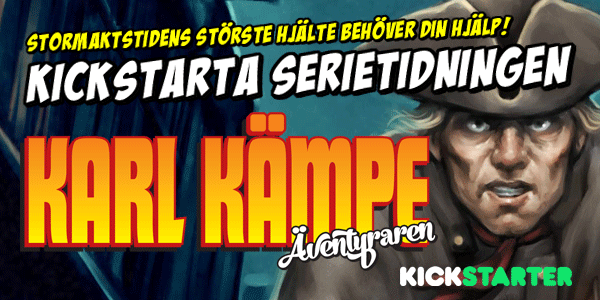 Hej alla rollspelvänner. KIckstartern för Karl Kämpe Äventyraren har startat och projektet behöver ditt stöd. 
Även om detta är en serietidning så är det många från den svenska rollspelsbranschen som är med i projektet.
Jörgen Karlsson (Medusa Games, En Garde III, Fantasy!) - Manus och formgivning.
Per Folmer (Fate of the Remnants, Svavelvinter, Saga, Fantasy!) - Serietecknare.
Daniel Karlsson (Kult: Divinity Lost) - Omslagsillustratör.
Även andra illustratörer är med på ett litet hörn som:
Daniel Falck (Svavelvinter, En Garde III, Action!)
Reine Rosenberg (Mutant År Noll, Mutant Genlab Alfa)
Pär Lindström (Känd rollspelskartograf)
Öppna plånboken och sprid ordet vidare till era vänner!
KARL KÄMPE ÄVENTYRARENS KICKSTARTERSIDA!